Vooner Flogard – Rugged Pump Built To Last
Vooner Vacuum Pumps – Flogard
The Vooner Flogard is a dependable and durable vacuum pump that has been an industrial workhorse for many years. These pumps are designed to withstand the extremes of temperature, pressure, and particle size without losing their performance or quality over time. They also have a high horsepower per gallon ratio which makes them ideal for generating higher airflow rates than other pumps in their class.
In order to stay competitive in today's world, it is essential for industries to increase production while reducing production-related costs. Vooner FloGard Vacuum Pumps, with its pioneer design, accomplishes just this. The FloGard design features give you vacuum pumps engineered for maximum value, consistent performance, and added pump life.
The patented self-aligning, removable bearing carrier speeds maintenance and reduces downtime. At the same time, stainless steel components extend the pump's overall useful life, thus reducing the full life cycle cost.
The bolt-in design fits right into your present CL-Series system so Vooner liquid ring vacuum pumps get you back into production faster – through faster delivery, installation, and start-up.
Vooner also provides extensive technical support and analysis services as well as sales support and distribution throughout North America. Plus, our worldwide sales and service representatives make Vooner the international choice in liquid ring vacuum pumps.
Vooner Flogard – Rugged and Built To Last
Prior to shipping to the customer, all Vooner pumps are thoroughly tested in Charlotte, NC, or Greeneville, TN with specifications according to Heat Exchange Institute (HEI). Vooner's rigorous quality control and performance tests guarantee that each Vooner pump matches the capacity at vacuum and power consumption shown on our performance curves.
Vooner Pumps – 2 Inlet Design
Vooner vacuum pumps are all manufactured with the world-standard 2 inlet pumps. Using this type of design allows you to achieve a zero average axial thrust load on its bearings.
When using a pump with a single inlet, single cone, you will always have a thrust load in a single direction on the bearings. However, with Vooner's two-inlet design you will have a system that will allow slower air velocity. That will allow for less of an impact force inside of the pump. You will also have a slower operating speed than you would by using pumps with single inlet designs.
Bolt In Replacement
Vooner Flogard pumps are engineered to fit standard industry dimensions and installs readily into existing systems.

Vooner Flogard Corporation
THE BENEFITS OF VOONER'S FLOGARD PUMP DESIGN
Vooner Flogard Easy Bearing Changes For Lower Maintenance Costs.
The VG and VAC pumps from Vooner have the patented bearing carriers that are removable which can facilitate changing the bearings (this is not available on the CL). These bearing changes for a Vooner VG or VAC pump can certainly be handled by one person with a wrench in less than a 2 hour time period.
The person would remove the bearing carrier with a wrench, then change out the bearing in the carrier plus reinstall the bearing with the wrench. The clearance settings aren't disturbed in this process and you are ready to restart. the pump.
However, when changing a bearing on a competitor's CL pump, it requires two men, along with a crane and a shop. Performing this bearing change process on a CL will require removing the pump from its location, then disassembling the pump, along with changing the bearings in the heads, followed by reassembling the pump and resetting the clearances. Then you must reinstall the pump in the proper location, check the alignment, and then turn it on.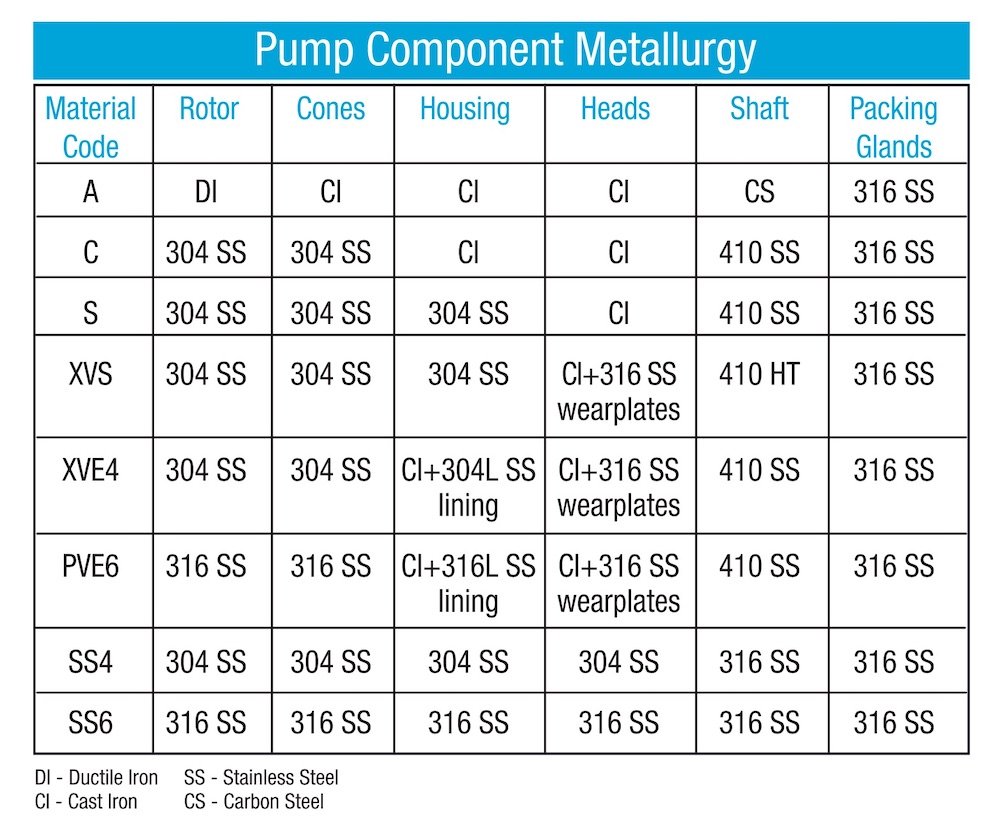 THE ADVANTAGE OF VOONER FLOGARD STAINLESS STEEL STRUCTURAL DIFFERENCE…FOR LONGER LIFE
Stainless steel will dynamically harden its surface with the formation of chromic oxide. This allows resistance to erosive attacks from solid materials and also corrosive effects from chemicals as well. Vooner can provide stainless steel roto and cones that help maintain the very close tolerance clearance between rotor blades and cone surface of the seal segment allowing long-term retention of hydraulic performance.
Stainless steel housings and heads can also be supplied for structural erosion and protection from corrosion in very severe service. This might include pumps used in mineral processing, paper mills, power plant fly ash conveying systems, plus CO2 gas compressors, and geothermal condenser gas extraction systems. Also, solid stainless steel is specified for "non-sparking" applications with natural gas and anaerobic digester gas recirculation compressors.
Pumps come equipped with solid cast 304 stainless steel (CF-8) rotor as standard construction. The 304 stainless steel prevents erosive and corrosive wear at the critical seal area. This maintains the original close tolerance between the rotor and cones.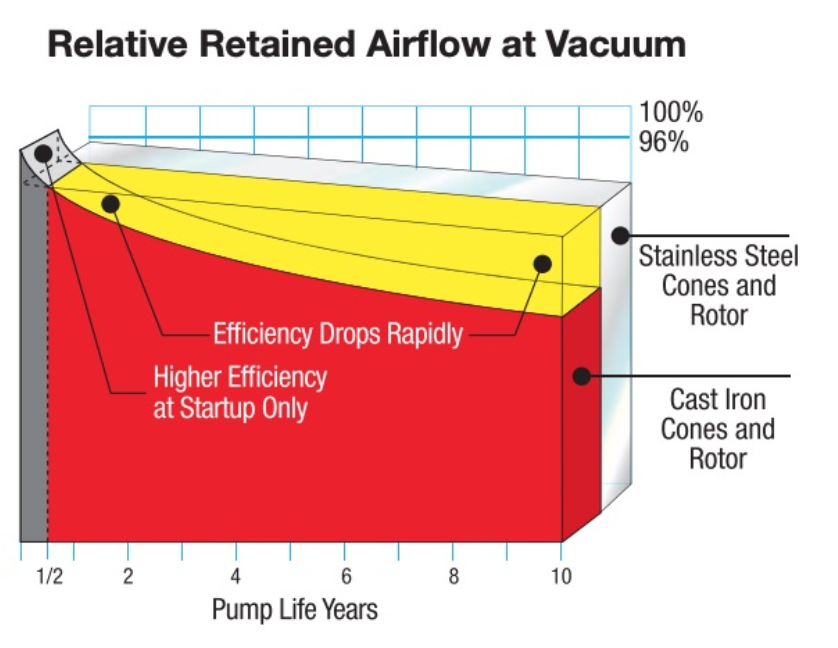 How "Vaneslip" Affects Pump Performance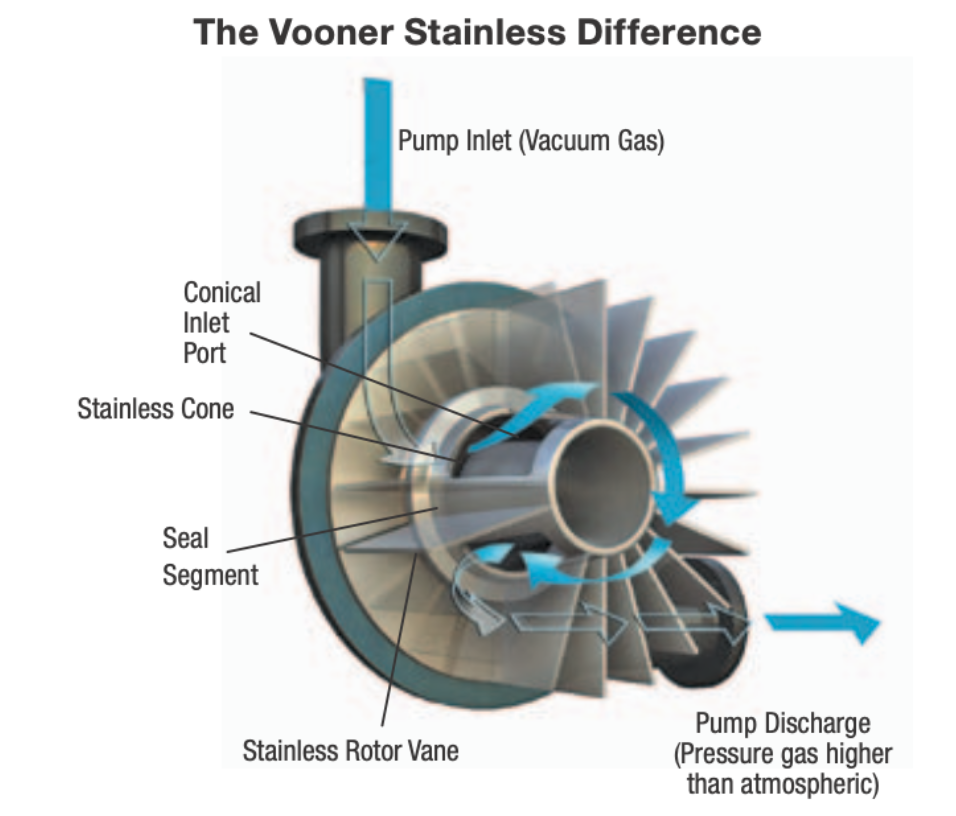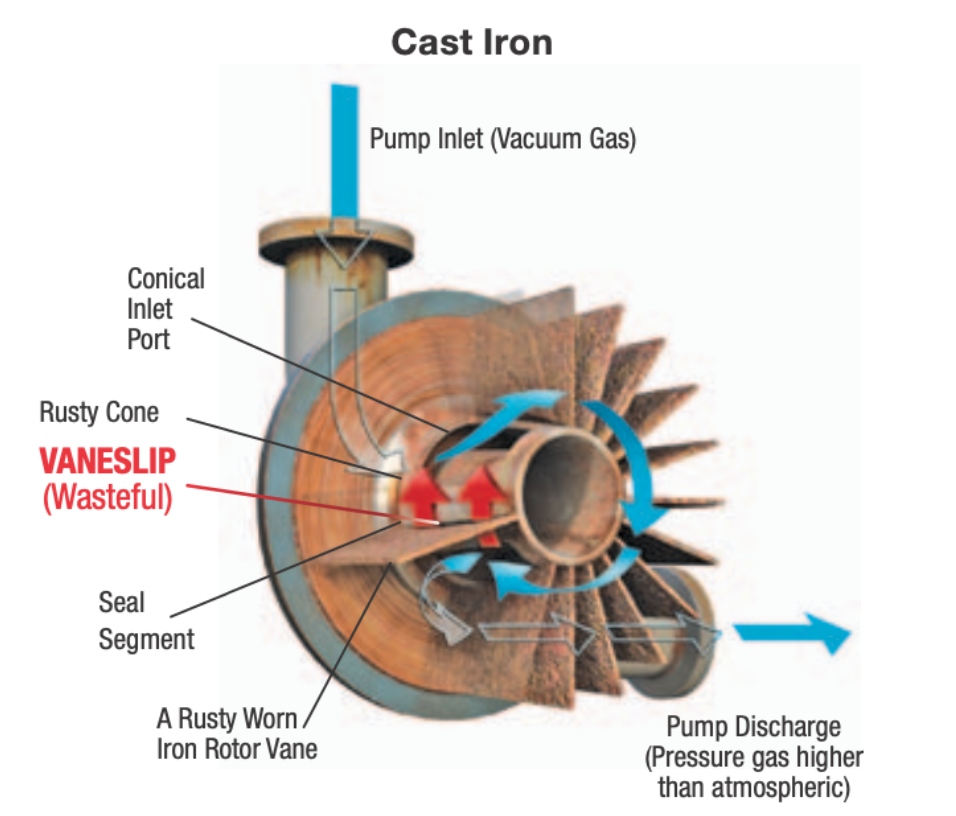 The portion of the discharge gas that isn't discharged from the pump and leaks past the seal clearance between the rotor vane and seal segment of the cone is referred to as "Vaneslip." This allows high-pressure gas to go into the inlet section and robs space for new inlet air to enter the pump. Therefore if reduces the flow of vacuum gas htat is being removed from the process.
Vooner Flogard

®

Pumps come equipped with solid cast 304 stainless steel (CF-8) rotor as standard construction. The 304 stainless steel prevents erosive and corrosive wear at the critical seal area. This maintains the original close tolerance between the rotor and cones.
Features and Benefits of Vooner Flogard
Feature – Cast stainless steel rotor which develops a polished surface with use.
Benefit – Increases useful pump life because it maintains airflow capacity longer than cast iron pumps
Feature – Stainless steel components
Benefit – Reduces costly Vaneslip; lost ACFM along with wasted horsepower and water
Feature – Removable bearing carrier that is self-aligning
Benefit – Reduces downtime required for bearing replacement – Pump removal from piping and disassembly is not necessary – Plus option to use packing or mechanical seals
Feature – 410 heat-treated stainless steel shaft
Benefit – Benefits durability of the shaft and increases shaft life span