Vacuum Pump Troubleshooting
When it seems you are having issues with a vacuum pump, it may or may not be a mechanical failure with the vacuum pump itself. On many occasions we can prevent costly and unnecessary repairs or replacements with our ability to diagnose the problem as something within the system such as the motor, water supply, leaks or blockages, etc. Please call us to help assist you in vacuum pump troubleshooting.
(see below for further information)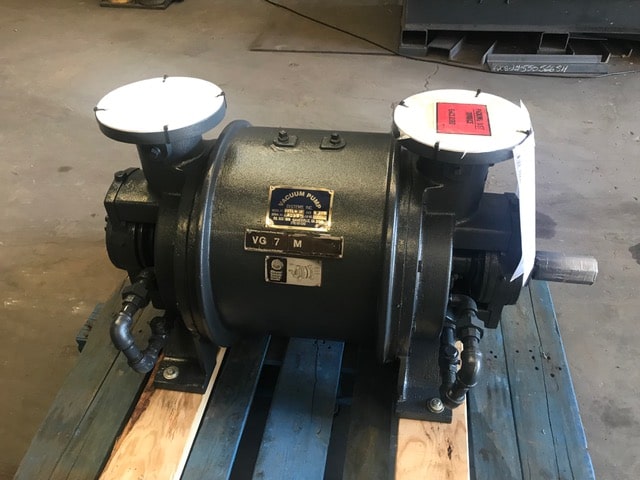 Below you will find several symptoms of potential problems with an underperforming pump. To help you in vacuum pump troubleshooting, we have provided various symptoms plus the probable causes and possible solutions. The probable causes and solutions correlate to each other by matching indicators – a), b), c), etc.
SYMPTOM – NO VACUUM
Probable Causes
a) Pump not rotating
b) Pump rotating backward
c) Pump is running dry
d) Defective vacuum gauge
e) Isolation valve improperly opened or closed
 Solutions
a) Check motor/starter
b) Reverse motor polarity
c) Feed sealant continuously
d) Replace gauge
e) Operate valves correctly
SYMPTOM – REDUCED PUMP CAPACITY OR INSUFFICIENT VACUUM
Probable Causes
a) Air leak in system
b) Low rotational speed
c) High sealant temperature
d) Low sealant flow rate
e) Inlet suction piping clogged or restricted
f) Undersized inlet piping
Solutions
a) Locate and repair
b) Check voltage, sheave sizes, belt tension, and gear speed
c) Adjust coolant flow and temperature
d) Increase flow
e) Clear inlet piping
f) Increase inlet pipe size
SYMPTOM – VACUUM LEVEL UNSTABLE; PUMP SURGING
Probable Causes
a) Pump operating below suggested minimum vacuum
b) High sealant flow rate
c) High flow or widely varying flow of process liquid through pump inlet
d) Inlet separator flooding
e) Low areas in inlet piping
Solutions
a) Review sysem requirements and pump performance curves
b) Decrease flow
c) Install inlet separator with barometric drop-leg or unloader pump
d) Check separator sizing, barometric drop-leg design, or condition of unloader pump
e) Locate and eliminate trapping liquid
SYMPTOM – MOTOR OVERLOADS OR DRAWS HIGH AMPERAGE
Probable Causes
a) High discharge pressure
b) High sealant flow rate
c) Rotational speed too high
d) Coupling sheave misaligned
e) Defective bearing
f) Pump binding
Solutions
a) Check discharge rate
b) Decrease flow
c) Check motor, drive components
d) Realign
e) Replace bearing
f) See "Pump binding"
SYMPTOM – EXCESSIVE NOISE OR VIBRATION
Probable Causes
a) Cavitation
b) High sealant flow rate
c) High discharge pressure
d) Coupling sheave misaligned
e) Defective Pump or motor 
f) Pump not properly anchored
g) Poor structural foundation
 Solutions
a) Seek to lower sealant temperature
b) Decrease flow
c) Check discharge rate
d) Realign
e) Replace bearing
f) Anchor properly
g) Repair, improve foundation
SYMPTOM – PUMP BINDING
Probable Causes
a) Build up of rust, scale
b) Foreign object in pump
c) Packing rings too tight
d) Clearances improperly set 
Solutions
a) Clean pump interior – process solids on pump interior
b) Remove object
c) Adjust packing rings
d) Readjust clearances
SYMPTOM – PUMP OVERHEATING
Probable Causes
a) Low sealant flow rate
b) High sealant temperature
c) Defective bearing
d) Coupling sheave misaligned
e) Pump binding  
 Solutions
a) Review system requirements and pump performance curves
b) Decrease flow
c) Install inlet separator with barometric drop-leg or unloader pump
d) Check separator sizing, barometric drop-leg design, or condition of unloader pump
e) Locate and eliminate trapping liquid
SYMPTOM – ABNORMAL BEARING WEAR
Probable Causes
a) Inadequate/excessive lubricant
b) Contaminated lubricant
c) Coupling sheave misaligned
d) Excessive belt tension 
e) Strain from piping
f) Soft foot on pump
g) High discharge pressure
h) High thrust load on out-board bearing
Solutions
a) Review and initiate correct lubrication procedures
b) Inspect/replace ceiling devices, flingers, and lubricate
c) Realign
d) Properly adjust belt tension
e) Support piping, use flexible connectors
f) Properly shim and anchor pump
g) Check discharge line
h) Split service pump with a vacuum differential greater than 5″HgV from one side of pump to other