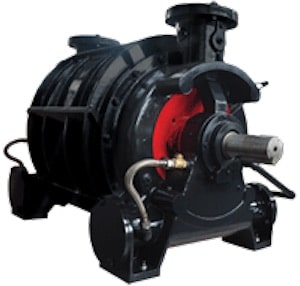 NES VACUUM PUMPS – NL SERIES
Liquid Ring Vacuum Pumps
OVERVIEW:
THE NES vacuum pumps (NL series) are a quality choice when repairing or replacing the classic Nash* CL Series liquid ring vacuum pump.  These new single stage/dual cone pumps are crafted to be drop-in replacements for the Nash* CL Series. They are available in NL-1000, 2000, 3000, 4000, 6000 and 9000 (up to 10,000 CFM). The construction is cast iron with Teflon packing. NES pumps are tested for performance and have a 2-year warranty. 
FEATURES:
• Drop-in replacement for classic Nash* CL series.
• Standard construction is Cast Iron with packing seals.
• Optional 304 or 316 Stainless Steel construction.
• Optional Viton mechanical seals available.
• Parts and repair kits readily available.
• Available as bare pump or as a part of engineering systems.
• Standard models typically ship from stock
• 2-year factory warranty
*Nash is a registered trade mark of Gardner Denver Nash. Vacuum Pump Systems, Inc. has no affiliation with Nash, Nash Engineering, or Gardner Denver Nash. The information contain herein is provided as a convenience and for informational purposes only. Performance data are subject to manufacturing variation and test conditions including but not limited to atmospheric pressure, ambient temperature, seal fluid temperature, tolerances, and materials of construction. Performance of pumps constructed fully or partially of Stainless Steel may be lower due to larger clearance settings. All NES Company Inc. supplied products and recommendations or suggestions must be evaluated by the end-user to determine applicability and suitability for any particular use.