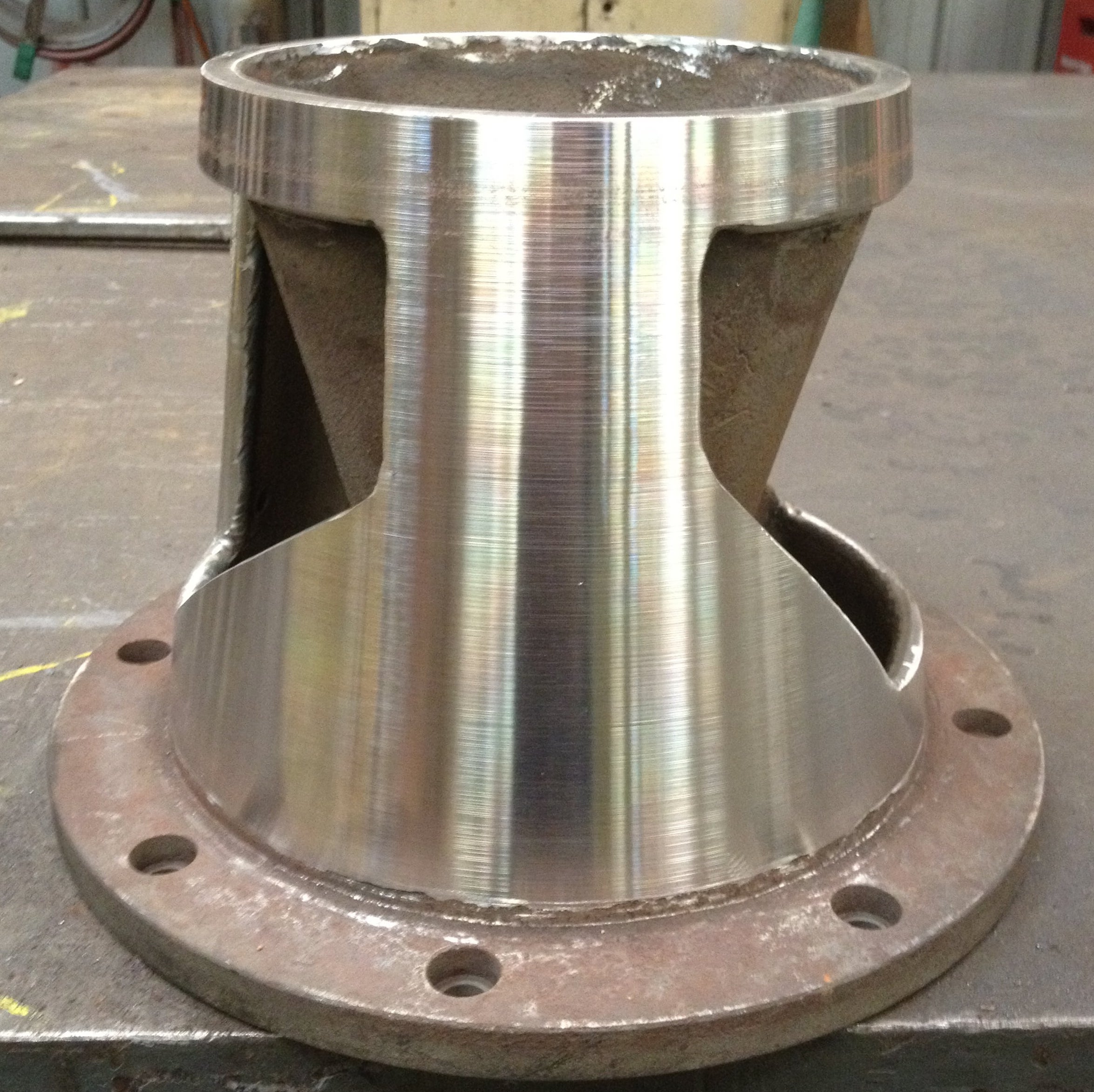 Repaired stainless steel clad cone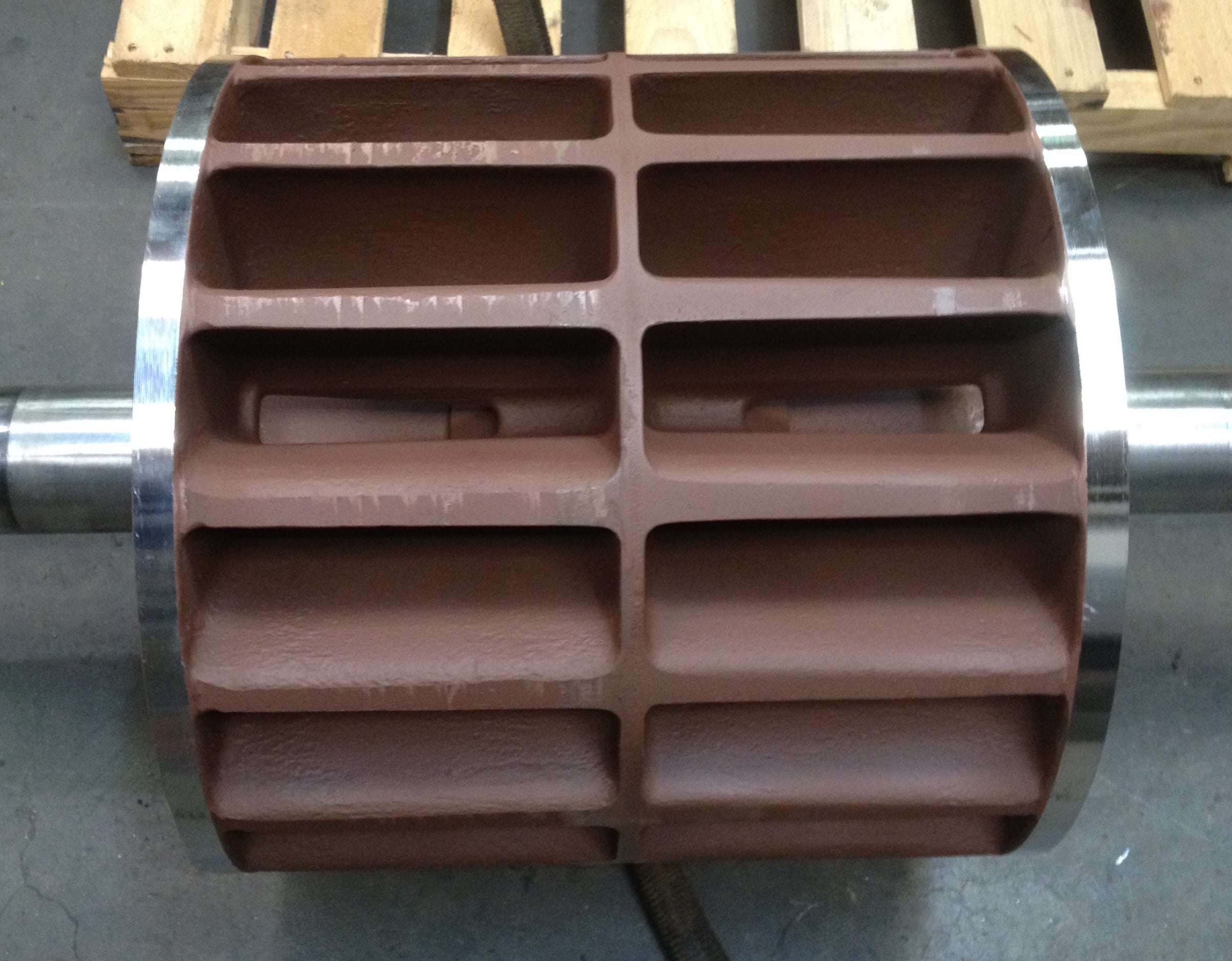 Let us Manage Your Vacuum Pump Repair Needs
Vacuum Pump Systems, Inc. has been in business for more than three decades to handle your vacuum pump repair needs. We offer a wide range of vacuum pump services and products to meet your needs. We have a team of highly trained and experienced vacuum pump repair technicians who can handle any vacuum pump repair job, big or small.
Liquid ring vacuum pumps do require regular maintenance in order to keep them running at peak performance. This includes periodic cleaning and repair of any damaged parts. Our team can advise you or instruct you in that capacity, helping you be proactive with the upkeep of your pumps.
Or, when you have a pump malfunction, we can help advise you and come up with the most low-cost, but effective way to handle the problem either with a pump repair rebuilt pump or a new replacement pump.
While we would love to sell you a new pump, and certainly believe that is a first-rate option, we do understand the need to cut costs and save as much money as possible if you can do so without affecting the quality of your industrial performance. Certainly, it's great to have new pumps if your budget will allow it. However, repairing a vacuum pump can often be done for a fraction of the cost of replacing it, and can extend the life of the pump significantly.
We understand that vacuum pumps are a vital part of your business, and we will do everything we can to get your vacuum pump up and running as quickly as possible.
Vacuum pump repair saves money over buying a new vacuum pump because the vacuum pump repair technician can make the repair on your vacuum pump instead of you having to buy a more costly new one. Vacuum pump repairs can also be done more quickly and efficiently than buying a new vacuum pump which has to be installed from scratch.
You want to get your business back up and running as soon as possible. If you have any questions about our vacuum pump repair services, or if you would like to schedule a vacuum pump repair job, please contact us today. We look forward to hearing from you soon!
Knowledgeable Experts in Vacuum Pump Repair
A top-quality rebuilt vacuum pump that will function at optimal standards requires the work of knowledgeable and experienced technicians. A pump that is rebuilt by untrained personnel can cause many problems. A vacuum pump repair or rebuild process doesn't leave room for error. By design, a vacuum pump changes the atmospheric pressure. When rebuilding a vacuum pump, all welding and machine work must be done correctly in order for the pump to perform within factory specifications.
Vacuum Pump Systems, Inc. is an authorized repair facility for Vooner vacuum pumps and a qualified repair facility for many others.
Vacuum Pump Repair for a Variety of Industries
 For those in need of a vacuum pump repair Vacuum Pump Systems, Inc. has been doing vacuum pump repairs for the last 34 years for a broad range of industries. These industries include poultry, sugar, fish, paper, carpet, piping manufacturing, and many others. Our process is as follows. Customer sends us the pump, we disassemble and make a complete assessment of the complete vacuum pump repairs needed. We then send a detailed estimate quote to the customer. (See sample quote) Repairs include a 1 year warranty.
EXAMPLE QUOTE FOR VACUUM PUMP REPAIR
List of repairs included:
-Stainless steel clad cones
-Match fit rotor and cones
-Stainless steel rings on rotor (if needed)
-Metalize shaft packing areas
-Repair shaft bearing journals DE & FE
-Heads need repair welding on wash out areas
-Repair welding in housing
-Stainless steel rings in housing (if needed)
We stand firmly behind our repairs and we are glad to help you troubleshoot your pump problems. In addition to the many parts, services, and individual pumps that are available at Vacuum Pump Systems, Inc., we supply complete vacuum pump packages that can fully meet the needs of our customers on a long term basis. 
Don't hesitate to call us at 770-532-0260 for your repair questions. With our background and years of experience we are confident that we can provide you the repair work that you need to minimize your downtime.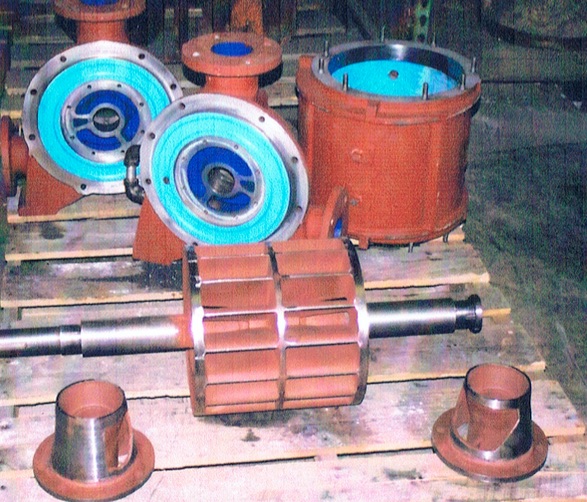 Rebuilt Pump Before Reassembly
Vacuum Pumps play an incredibly critical role in the processes and manufacturing activities of most industries. Down time from a failed pump can lead to massive financial loss. Companies can minimize their financial loss by having extra new or rebuilt pump as backups while they are awaiting their vacuum pump repair.
In those emergency situations where a part of company's production comes to a halt because of a faulty vacuum pump system, it's definitely a lifesaver to have those extra pumps or systems available in your possession.
How likely is a vacuum pump likely to go down? It's fairly inevitable considering the tremendous hours of use in many industries.
Most vacuum pumps eventually suffer from erosion, cavitation, entrained solids with the liquid ring, chemical attack, or lack of vacuum capacity after long, hard hours of service. So, at Vacuum Pump Systems we can work with you in emergency situations and we can help you plan for the long term in order to safeguard your company from losses incurred when the equipment breaks down.
Our team can provide new and rebuilt pumps or entire systems so you can face a vacuum pump repair with ease and low cost to your company.