In Stock Ready To Go!!
– VPSS-3 Water Trap   Separator/Silencer
– VPSS-4 Water Trap   Separator/Silencer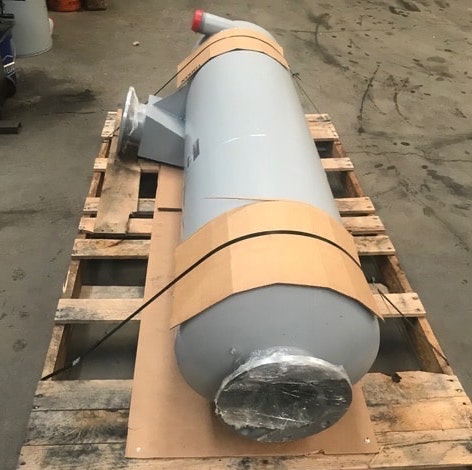 Vacuum Pump Separators/Silencers
We can provide you with Vacuum Pump Separators or Silencers. Vacuum Pumps are primarily engineered and designed to handle a gas, such as air. They will normally operate with an open discharge to the atmosphere. Many times water is used as the liquid compressant on a vacuum pumps and the amount of water that is needed depends on the degree of vacuum that is required.
Separator-silencers are used to remove liquid from gas flow vacuum systems. This can be accomplished by using either liquid-sealed rotary positive blowers or with liquid ring vacuum pumps. These separator-silencers may be necessary for the inlet (vacuum) and also the discharge of a vacuum pump system. When there are more stringent acoustical environment requirements you will need significant inlet silencing.
An inlet separator will provide the corrosion protection for the pump by removing the process liquid before it goes into the vacuum pump. The pump or blower discharge cna be normally extremely noisy and can require a high-performance separator -silencer. Operation
Vacuum pump discharge both water and air into the atmosphere, there are two problems involved: doing away with the water, and silencing the noise of the air flowing from the discharge. Vacuum Pump Systems, Inc. can supply you with the discharge separators/sliencers for your system's needs.
Our staff stands by to help you with every part of the the vacuum part of your vacuum pump package.
Let us provide you with the products you need to stay up and running with quality and efficiency. Our trained experienced staff will work with you to provide solutions for each part of your systems. Call us or get your custom quote today.